Founding Directors
Caitlin Kelley 
After studying African history at Northwestern University, Caitlin came to Tanzania to learn Swahili and to find a way to help without hurting. Before coming to Tanzania she worked at the Centre d'études africaines at the Ecole des Hautes Etudes en Sciences Sociales in Paris, France, and translated for Africans seeking asylum in the United States. She is also a writer, photographer, and visual artist.
Jafari Msaki 
Jafari combines passion for working with grassroots charitable projects with expertise in the international community. He worked with several NGOs in Moshi, primarily with orphans and the elderly, and helped found the Moshi Disabled Network. Before helping found AVC, he worked for several years as a tour operator in the safari business.
Administrative Assistant
Nuru Wilfred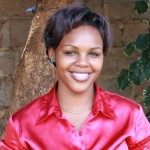 Nuru Wilfred studied at the Intel Training Center and earned a diploma in Information Communication Technology (ICT). Nuru was a member of AVC's first ever Class of Volunteers in 2012 and she volunteered for another year in 2013. Before volunteering with AVC, Nuru worked at Partnership for Youth Development (PAYODE) as a secretary. After volunteering, Nuru wanted to work with AVC because she wanted to use her secretarial and ICT skills to continue to do good. She likes that AVC allows her to see beyond herself and think about the big picture. She hopes to help build AVC into a network all over the world to help others.
Board of Advisors
Ilunga Kalala 
Ilunga grew up in the Bronx in New York City. His parents are from the Democratic Republic of the Congo (DRC), which influenced his personal interest in Africa early on. Ilunga holds a B.A. in History, with a focus on Africa and the African diaspora, from Williams College and a J.D. from Washington University in St. Louis. He has lived in Tanzania and the Democratic Republic of the Congo and speaks English and French. Prior to joining the board at AVC, Ilunga served as a Board Member of Achieving Leadership's Purpose in Harlem, NY. Ilunga became interested in AVC because of his interest in Africa and youth leadership. Ilunga was inspired by AVC's vision  and wanted get involved.
Kirsten Huntley Goode 
Kirsten has always felt at home and in touch while venturing abroad. Kirsten is half Danish, half South African and has lived in 4 countries across 3 continent. Kirsten was drawn to explore her African roots in Tanzania and while volunteering at a nursery school in the foothills of Kilimanjaro in 2007, she was lucky enough to meet AVC Director Caitlin Kelley. Kirsten's desire to help support others to strive to be their best and her love for Africa is what inspired her to join the AVC team. As a board member she supports Experience Africa Tours, fundraises through teaching yoga classes, and researches the UK charitable environment.
Lori Fried 
Lori grew up on a wheat farm in North Dakota, studied film at the University of Colorado, moved to New York City, and worked in documentary film for 10 years. Then, inspired by a decade's worth of films about human rights, social justice and international development heroes (like Caitlin and Jafari), she changed course and enrolled at The New School, receiving an M.A. in International Affairs in 2013. Lori has interned with Equality Now, UN-Habitat, The Sirleaf Market Women's Fund, and the Federation of Women Lawyers – Kenya.  She has worked on land dispute and access to justice programs in Liberia and Iraq and is currently an Associate with Winrock International.  She still loves going to the movies.
Advisory Council
Oupa Seane
G. Paschal Zachary